NMO Liquid Filtration Bags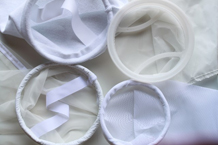 Economical filtration for a wide array of applications. Our Filter Bags will fit all industry- standard bag housings.

Replacements for American Felt, Cuno, Filter Specialists (FSI), GAF, Pleny, Ronningn-Petter, Rosedale, Strainrite

PE200P1P, PE200P1S,PE150P1S,PE100P1S, PO200P2P, PO50P2P, PO100P2P,PO25P2P,NMO100P2S,NMO200P2S, NMO50P2S, NMO600P2S, NMO800P2S, NMU100P2S,NMU100P2P, NMU200P2P, NMU200P2S, NMU600P2P, NMU600P2S,PEM100P2s,PEM100P2P, PEM200P2S, PEM200P2P,
Product Name : Liquid Filter Bag Series
THE DETAILED DESCRIPTION OF LIQUID FILTER BAGS SERIES
Liquid Filter Bag Series
Filter Media

PE / PP / PTFE

Nylon NMO

Efficient Multi-layer

Filtration Precision

0.5,1,3,5,10,25,50,100,200µm

25,50,80,100,125,150,200,250,300,400,600,800µm(20-600M

Removal efficiency is higher than 90%.2-3times removal rate of com
No Dust Filtration Products, Inc. (NDFP) - NMO Liquid Filtration Bags
Let the experienced parts representatives at NDFP quickly and efficiently address the needs of your specific operation and supply you with the NMO Liquid Filtration Bags best suited to perform efficiently for your process operation. The No Dust Filtration Products Team will assist you in making your processing operation a reliable and efficient operation.